Laparoscopic Cholecystectomy
Steve Warren has always been an advocate of laparoscopic keyhole surgery from the earliest days of its inception in the UK, seeing first hand the enormous benefits to patients. This is an early example of his first keyhole operation (laparoscopic cholecystectomy – keyhole gallbladder removal) which for the time was groundbreaking but is now considered 'routine' for gallbladder surgery. As a consequence, Mr Warren has a wealth of experience for this type of surgery, and of course has extended the range of surgical conditions and problems he treats laparoscopically eg. gallstones which have moved from the gallbladder into the bile ducts and causing problems (colicky pain, yellow jaundice and pancreatitis – inflammation of the pancreas and pain as a result), he is able to also remove laparoscopically at the same keyhole gallbladder operation (most surgeons are not able to do this)

These articles for very early laparoscopic cholecystectomies appeared on the front page May 1991 entitled 'Operation Guinea Pig' (since this was so unusual at the time) but was actually far more complementary in the narrative! Below – a very young surgeon in training after his first laparoscopic cholecystectomy!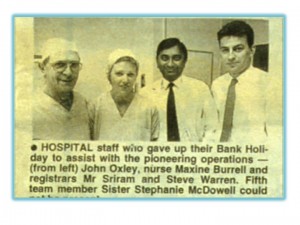 Laparoscopic Appendicectomy
Stephen Warren was approached in 2005 by the Daily Mail wishing to publish an article upon keyhole surgery and had been given his name as a pioneer and expert. Although many surgical conditions can be treated laparoscopically, those in a young age group represented their readers. Mr Warren suggested and wrote an article upon appendicitis and the benefits of laparoscopic removal of the inflamed and painful appendix. This was published in 2006.
L

aparoscopic Colorectal Cancer Resection
Patients who unfortunately present to Mr Warren's NHS or Private clinics and are subsequently diagnosed with a bowel cancer (colorectal cancer), are all individually discussed at a weekly Colorectal Cancer MDT (Multi-Disciplinary Team) meeting where individualised tailor-made treatment plans are discussed to best suit the individual patient, as no two cases are the same. For patients who require surgery, the laparoscopic approach may be preferable as recovery is faster than the 'traditional open approach', wound complications less and this might be particularly important for patients who might require post-operative chemotherapy (which may be delayed in the presence of infection). The scriptwriters for BBC1s Holby City medical drama sent some of their actors into Mr Warren's operating theatres (all agreed by the Trust and with patient's permission) to observe laparoscopic colorectal resections 'in real life' to improve their medical/surgical knowledge, understanding of this process for bowel cancer and the laparoscopic techniques, and ultimately their acting skills. They were accompanied by a Radio Times reporter covering this event in 2011, an article appearing in 'The Radio Times' shortly thereafter detailing their experience with Stephen Warren in operating theatres.
Screening Service for Colorectal Cancer
Prior to the 2007 UK Governmental initiative to send out through the post screening FOB tests (Faecal Occult Blood tests – essentially looking for microscopic blood in your stool which you wouldn't otherwise be able to see and ideally detects bowel polyps and cancers at an earlier stage) to all 60-70 year olds (recently extended to 75 year olds), Stephen Warren set up a Private FOB Screening service where North London residents could collect the necessary kits to perform these tests themselves, and Mr Warren appeared in a number of local newspapers, magazines and gave GP and public talks on bowel cancer screening.